2017 Featured Speakers
Margarita Alegría, Ph.D.
Margarita Alegría, Ph.D., is the Chief of the Disparities Research Unit at Massachusetts General Hospital, and a Professor in the Departments of Medicine and Psychiatry at Harvard Medical School. Dr. Alegría is currently the PI of four National Institutes of Health (NIH)-funded research studies: International Latino Research Partnership; Effects of Social Context, Culture and Minority Status on Depression and Anxiety; Building Community Capacity for Disability Prevention for Minority Elders; and Mechanisms Underlying Racial/Ethnic Disparities in Mental Disorders. She is also the co-PI of a William T. Grant Foundation project, entitled Understanding the Experience of Majority and Minority Status through Photovoice. Dr. Alegría has published over 200 papers, editorials, intervention training manuals, and several book chapters, on topics such as improvement of health care services delivery for diverse racial and ethnic populations, conceptual and methodological issues with multicultural populations, and ways to bring the community's perspective into the design and implementation of health services.
As an acknowledgement of her contributions to her field, Dr. Alegría has been widely recognized and cited. Among the many awards: the Mental Health Section Award from the American Public Health Association, 2003; the Health Disparities Innovation Award from the National Institute of Minority Health and Health Disparities, 2008; the Carl Taube Award from the American Public Health Association, 2008; the Simon Bolivar Award from the American Psychiatric Association, 2009; and the Award of Excellence from the National Hispanic Science Network on Drug Abuse, 2011. In October 2011, she was elected as a member of the Institute of Medicine. In addition, Dr. Alegría was selected as El Planeta's (Massachusetts's largest circulating Spanish-language newspaper) 2013's Powermeter 100 most influential people for the Hispanic community in Massachusetts.
---
Stephen Delisi, MD, DABAM, FASAM

Prior to joining the Hazelden Betty Ford Graduate School of Addiction Studies as the Assistant Dean, Dr. Delisi served as the Midwest Regional Medical Director for HBFF. Dr. Delisi graduated in 2001 from Rush University Medical Center in Chicago, Illinois. There he served as chief resident in the Psychiatric Residency Program. He also participated in a Neuroscience Research Fellowship from Loyola University, Chicago and was awarded a NARSAD Young Investigator Award. Dr. Delisi served as Director of Psychiatric Services at Rush Behavioral Health-DuPage, Associate Director of the Psychiatric Residency Program at Rush, and Associate Director of the Chicago Board Review Course.  Dr. Delisiís fields of interest include psychopharmacology, assessment and treatment of co-occurring SUD and MH disorders, neurobiology of addiction, mindfulness-based cognitive therapy for depression and addiction, and adaptive leadership. He is also active in community support and public advocacy to improve care delivery for individuals struggling with addiction and mental illnesses.  Dr. Delisi has co-authored 28 presentations and published abstracts, many of which focus on mindfulness-based treatment. He has also co-authored three publications, two of which are supported by the National Alliance for Research on Schizophrenia and Depression (NARSAD).
---
Jordan Hansen, MA, LADC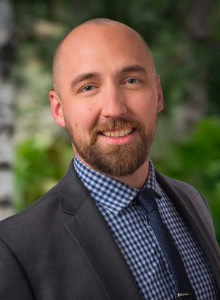 Jordan is an experienced clinician, consultant, writer and speaker focused on assisting communities and organizations adopted evidence-based practices for the treatment of Substance Use Disorders. He manages Hazelden Betty Ford's Comprehensive Opioid Response with the Twelve Steps training program, helping implement effective medication-assisted programming for the treatment of Opioid Use Disorder. Jordan's experience as a clinician within residential, long-term and outpatient levels of care informs all his work, aiming to combine cutting-edge, evidence-based treatment approaches with the wisdom found in peer-supported recovery.
---
Chris Heimerl, MA
Chris draws inspiration from John Hiatt's lyrics to guide us through turbulent times. What values and practices will we hold most dearly as we enter unprecedented uncertainty in our lives and our life's work? Chris began his career addressing the fallout faced by countless individuals when mental health commitment laws discharged them into our communities without resources or support in the late 60's. Since the early 70's he has  participated in a handful of states transition from reliance on institutional care to community support. From the emergence and decline of block grants to the dominance in the ID/DD world of Home and Community Based Waivers, there are threads that may sustain our efforts and create unforeseen opportunities. It will begin and end Through Our Hands.
---
Michael McLean and John Batdorf, Lifetime Songwriters, Composers, Authors
For many recovering addicts it's in rehab they discover there are often musical triggers to their abuse, (the songs associated with using) and then they have to learn how to avoid those triggers that are essentially the soundtrack to their addiction. Last year, some addiction recovery sponsors found out that John Batdorf and Michael McLean were working on a project with the working title of 12 songs for 12 steps and asked if they'd do a concert for several recovering addicts. Turns out it was about 700 addicts and their families who attended. The concert gave John and Michael a chance to see if their songs made a difference with the audience. They were overwhelmed with the feedback they received that evening. The show received a tremendous response, people waiting in line for nearly an hour to thank them, and after receiving several hand written notes from addicts at the show saying "please hurry and get these songs recorded" they realized that the need was great and the urgency even greater.
John and Michael are singer/songwriters with a passion to let the power of music help people trying to change. They've been wearing out their lives the last forty plus years as professional songwriters hoping to make a difference. Although they understand they're not the only guys who have songs that could help, they want to get the ball rolling.
More Information
Soundtrax2Recovery
John Batdorf Music
Michael McLean Music
John Batdorf Facebook Page
Reverbnation/John Batdorf
John Batdorf Blog
---
Irene M. Rodriguez, LMHC, CAP, CCTP, Certified EMDR Therapist, Affiliate Trainer Institute for Creative Mindfulness
Irene M. Rodríguez is the founder and director of Mindful Journey Center. She is a Licensed Mental Health Counselor, Certified Addictions Professional and Certified Clinical Trauma Professional with a Master of Science in Mental Health Counseling from Nova Southeastern University. She is certified EMDR Therapist and certified Traumatic Incident Reduction Facilitator and Trainer. Ms. Rodríguez has been trained in Trauma Focused- CBT, Life Stress Reduction (LSR) and is certified Dancing Mindfulness Facilitator and Trainer.
​
Professionally, Ms. Irene M. Rodríguez has worked with a variety of populations with a specialty in treating children, adolescents, and adults with complex issues such as depression, PTSD, cutting and self-harm behaviors, anxiety disorders, anger management, adjustment disorders, addiction disorders, substance abuse, grief, phobias, dual diagnosis and mood disorders such as bipolar disorder since 2006. Ms. Rodríguez has a private practice in Fort Lauderdale, Florida where she continues providing psychotherapy services and facilitates training in Trauma Incident Reduction (TIR) and Dancing Mindfulness Facilitator Certifications.